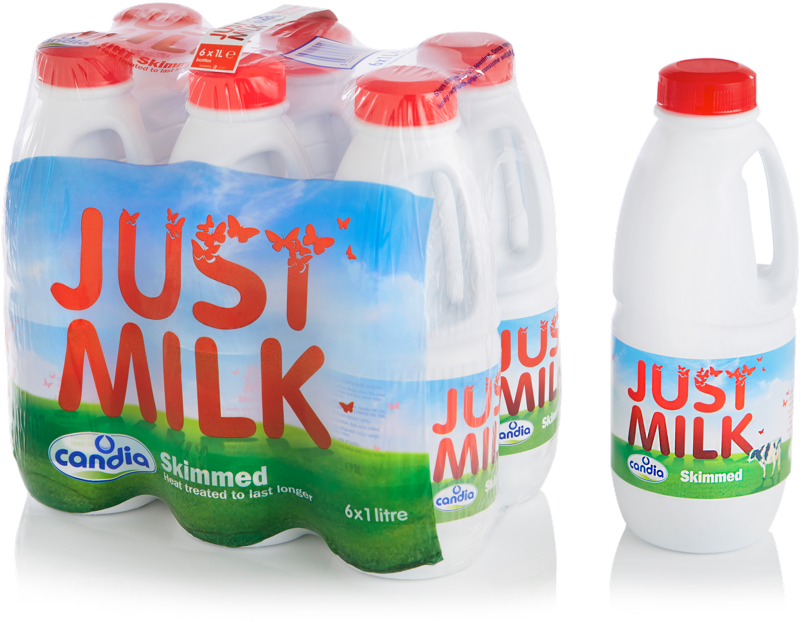 Milk is udderly great for building and maintaining healthy teeth and bones but it's also the only drink (along with water) that dentists say is safe to drink between meals, since it doesn't cause tooth decay. Couple this with the added benefits of low-calorie, great tasting skimmed JUST MILK as a part of a calorie controlled diet and it's hard to see why we even think about drinking anything else!
Okay, so we all know milk is udderly brilliant at making sure we all get our daily intake of a whole host of heath-boosting vitamins and minerals; nothing earth-shattering there! However, what is much more of an eye-opener is the latest piece of research we recently came across that shows just how darned good milk is at re-hydrating the body effectively when compared directly with water and sports drinks. Honestly, just when you thought you knew everything there was to know about milk…this new bit of research lands in our in-box!
Calcium 120 mg (12% of RDA)

Saturated Fat – Trace
above values are per 100ml of Skimmed JUST MILK serving and based on an adult women's recommended daily intake
Does JUST MILK contain any additives?
Nope. JUST MILK contains no additives or preservatives. That's why we call it JUST MILK, Silly.
How is JUST MILK given its long life?
JUST MILK is sterilised by heating it to 140°C for a few seconds, followed by rapid cooling. This removes all the undesirable bacteria. JUST MILK will then keep much longer. No milky goodness is harmed by this process.
Is JUST MILK as healthy as fresh milk?
Certainly. JUST MILK has the same quantity of nutrients and minerals as fresh milk. 12% of your Calcium RDA in one glass and barely a trace of fat.
What does JUST MILK taste like?
People who try JUST MILK are surprised how like short life milk it tastes. Many even say JUST MILK Skimmed tastes creamier than fresh skimmed milk. Have a go and see for yourself.
Does JUST MILK have to be kept in the fridge?
No, unopened, JUST MILK can be safely stored at room temperature for up to 5 months. Once open, JUST MILK must be kept in the fridge where it will last for up to three days, just like fresh milk.
Why is JUST MILK in a plastic bottle?
The JUST MILK bottle is made from special, triple-layered plastic. This helps to protect the Milk from light and helps to preserve all the Milk's natural nutritional qualities and good taste. The bottles come with colour-coded screw-caps (red for skimmed, green for semi-skimmed and blue for whole), which make opening, closing and pouring practical and easy.
Is the plastic bottle recyclable?
What about Galactosaemia?
People with Galactosaemia cannot break down galactose in the diet and this can lead to health problems.
The main source of galactose is lactose so they follow a dairy free diet / lactose free diet. This milk is not suitable if you have Galactosaemia as it still contains galactose and could be dangerous to consume.
Can I freeze JUST MILK?
As JUST MILK can be stored at room temperature, freezing of JUST MILK is not necessary.
Tell me about JUST MILK?
JUST MILK is made by Candia, one of the largest dairy producers in Europe.
Where to buy

Skimmed

 JUST MILK online
join Our Newsletter
Stay up to date with our latest recipes, offers and news with our monthly newsletter. You can unsubscribe at any time here. You will receive an confirmation email in which you must click a link to join our list.