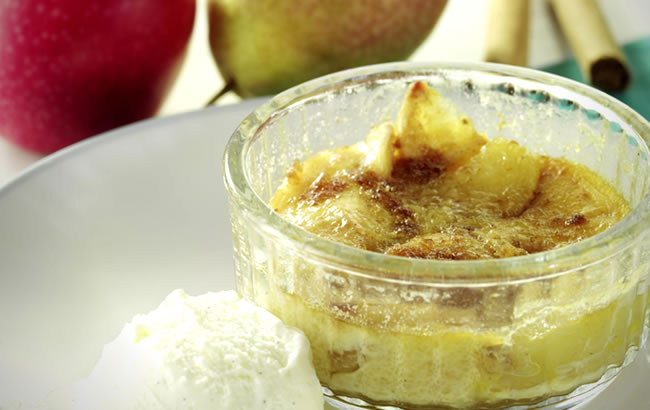 Ingredients
250ml JUST MILK
4 Pink Lady apples (or similar)
4 Conference pears (or similar)
1 cinnamon stick
16 tsps caster sugar
2 tsps salted butter
4 free range eggs
A few teaspoons of brown sugar
Method
Preheat the oven to 200°C.
Wash and peel apples and pears, before cutting them into quarters. It's a good idea to do this just before you're ready to cook so the fruit doesn't go brown!
Melt the butter in a pan over a gentle heat. Add half the sugar, all the fruit and the cinnamon stick.
Cook over a low heat for 10 minutes until the apples and pears have softened, stirring gently occasionally.
Now remove the cinnamon stick and pour mixture into a gratin dish. In a separate bowl, beat the eggs and then stir in the JUST MILK and the remaining sugar.
Pour the milk, egg and sugar mix into the gratin dish and bake for 15 to 20 minutes.
Once cooked through, sprinkle a little brown sugar over the top and grill for a few minutes for a crunchy caramel crust.
Serve with a scoop of creamy vanilla ice cream for a fresh and warming dessert.
Category
EVERYDAY RECIPES