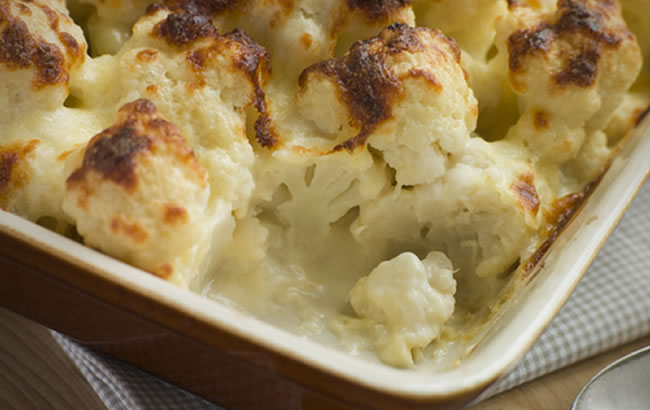 Ingredients
55g butter
55g plain flour
1 level tsp mustard powder (optional)
Large pinch salt
500 ml JUST MILK
50g cheddar cheese or similar, grated plus extra for sprinkling on top
Freshly ground pepper
Method
Heat the oven to 200C°. Remove the green outer leaves from the cauliflower and steam whole over a pan of boiling water for 10 minutes. Remove the cauliflower from the heat and leave to cool.
Place the butter and flour into a large saucepan. Over a low heat stir the butter and flour until the butter has melted and the flour is incorporated. Add the salt and mustard powder and continue stirring for 2 minutes.
Turn the heat up to medium and add all the JUST MILK in one go and whisk vigorously until a smooth sauce is formed.
Continue stirring until the sauce is thickened and glossy (about 5 minutes) If the sauce is very thick add a little more JUST MILK: the sauce should be thick but still runny. Add the grated cheese and stir until melted. Remove from the heat.
Break the cauliflower florets from the thick, central stalk taking care not to break them into tiny pieces. Place the florets in a baking dish large enough to hold all the florets in one layer.
Pour the cheese sauce over the cauliflower ensuring all the florets are covered. Sprinkle with grated cheese and a good twist of black pepper.
Bake in the hot oven until the sauce is bubbling and golden brown on the top, approx 30 minutes.
Category
BRITISH CLASSICS