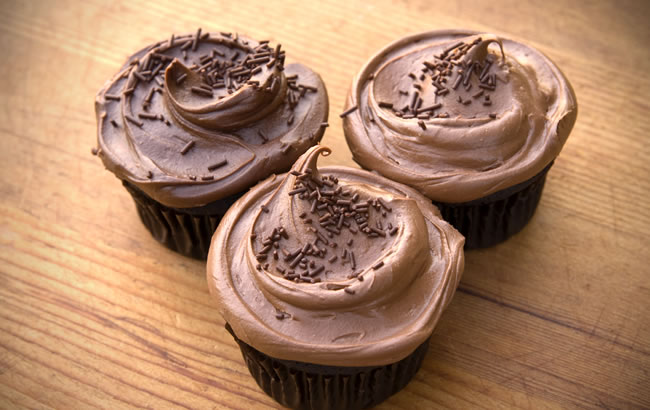 Ingredients
375g all-purpose flour
1 1/2 teaspoons baking powder
1 pinch of salt
2 large eggs, room temperature
160g sugar
180g unsalted butter, melted
2 teaspoons pure vanilla extract
125ml JUST MILK
Icing:
100g milk chocolate
80g semi sweet chocolate
500g confectioners' sugar, sifted
60ml JUST MILK
60g unsalted butter, softened
2 teaspoons pure vanilla extract
1pinch of salt
Decorative sugar cookies or marshmallow candies to decorate
Method
Preheat the oven to 180 C°. Line the muffin tin with cupcake liners.
Whisk the flour, baking powder, and salt together in a medium bowl.
In another medium bowl, beat the eggs and sugar with an electric mixer until light and foamy, about 2 minutes. While beating, gradually pour in the butter and then the vanilla.
While mixing slowly, add half the dry ingredients, then add all the JUST MILK, and follow with the rest of the dry ingredients. Take care not to over mix the batter. Divide the batter evenly in the prepared tin (about 1/3 cup batter per cup cake.)
Bake until a tester inserted in the center of the cakes comes out clean, 20 to 25 minutes. Cool cupcakes on a rack in the tin for 10 minutes, then remove. Cool on the rack completely.

For icing:

Put the chocolates in a medium heatproof bowl. Bring a saucepan filled with 1 inch or so of water to a very slow simmer; set the bowl over, but not touching, the water. Stir the chocolate occasionally until melted and smooth. (Alternatively, put the chocolate in a medium microwave-safe bowl. Melt at 50 percent power in the microwave until soft, about 1 minute. Stir, and continue heat until completely melted, about 1 to 2 minutes more.)
Add the confectioners' sugar, JUST MILK butter, vanilla extract, and salt and beat with an electric mixer until smooth and creamy. Divide icing evenly between cupcakes and swirl with the back of a spoon or an offset spatula. Serve.
Category
BRITISH CLASSICS