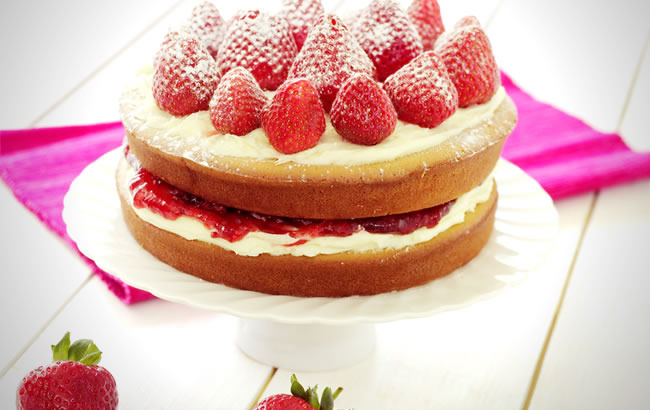 Ingredients
Cake:
4 eggs
300g sugar
2 teaspoons vanilla
200g flour
2 teaspoons baking powder
½ teaspoon. salt
250 ml JUST MILK
2 tablespoons butter or margarine
Filling:
120 g softened butter (for the butter cream)
300 g icing sugar (for the butter cream)
Jam of your choice
1 short crust pastry
480 ml of JUST MILK
6 egg yolks
70 g caster sugar
1 vanilla pod, split
grated nutmeg
350g red rhubarb, sliced about 1cm/½in thick
Method
Preheat oven to 180°C. Grease and flour the bottom only of 2 20cm dia cake tins.
In a large bowl, beat eggs until appearance is thick and lemony. Beat in sugar and vanilla.
In a medium bowl, sift together the flour, baking powder and salt. Gradually stir flour mixture into egg mixture.
In a saucepan, bring the JUST MILK and butter to a boil. Remove from heat and add all the hot milk mixture to batter mixture. Stir until well combined.
Pour mixture into prepared cake tins, using a spatula to get remaining batter out of bowl, and to spread batter evenly.
Bake for 30-35 minutes or until a toothpick inserted into the centre comes out clean


Filling:

Cream the butter in a bowl using the back of a wooden spoon. Keep stirring until it's of a creamy consistency. Add 280g of the icing sugar a spoonful at a time, continuing to cream the butter between each spoonful, until all the sugar has been thoroughly mixed in.
Category
BRITISH CLASSICS