JUST MILK Lactose Free Mug Winners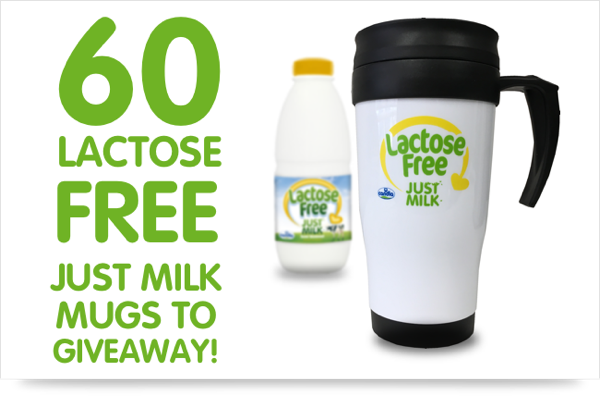 We had 60 handy Lactose Free JUST MILK take away, reusable mugs to giveaway. We had a fantastic response with lots of people entering our competition. A big thank you to everyone who entered!
Here's a full list of winners, although, if you are a winner, you will have been notified by now and more than likely will have received your apron in the post.
Ruth, Alford
Sandra, Carleton
Michelle, Leicester
Rebecca, Carrickfergus
Michelle, Reading
Lorraine, Barnstaple
Stephanie, Portsmouth
Lee, Leeds
Karen, Bracknell
Eileen, Harwich
Wendy, Greenhithe
Angela, Wellingborough
Janet, Bristol
Dana, Port Talbot
Monika, Edgware
Sandra, Doncaster
Anne, Brentwood
Firas, Bristol
Zoe, Co. Durham
Martin, Choppington
Sheila, Oxford
Annalise, Newton Abbot
Peter, Montrose
Laura, Cheltenham
Lynsey, Birmingham
Linda, Canvey Island
Paul, Whitby
Jessie, Newnham
Vicky, Belfast
John, Glasgow
Pat, Downpatrick
Rachel, Cheshire
Margaret, Fareham
Linda, Uttoxeter
John, Taunton
Nina, London
Maureen, Gosport
Andrew, Bethnal Green
Anna, Enfield
Ms Wilks, London
Teresa, London
Wendy, Winchburgh
Andrew, Dudley
Kelly, London
Marion, LISBURN
Lara, Midsomer Norton
Zoe, Washington
Julie, Bideford
Amy, Blackpool
Stephanie, Falkirk
June, Waterlooville
Becky, Jersey
Gillian, Chelmsford
Steven, Fowey
Demi, Newcastle Upon Tyne
Katie, Coventry
Saraya, Oldham